Specialty Services for Disaster Recovery
Prepare for the worst, but expect the best & most-complete restoration work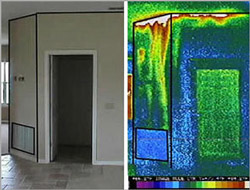 In the aftermath of a disaster that has caused extensive damage to your home, it's natural to feel overwhelmed. There's so much to do, and so much at stake. Where do you begin? What tasks should take precedence?
At United Services, over 30 years in the disaster restoration business have enabled us to broaden our capabilities. The "specialty services" category is an excellent example of our commitment to providing comprehensive disaster recovery services.
Specialty services call for specialized training, tools and skills
The restoration categories explained below all qualify as specialty services that we can offer home and business owners who are faced with disaster recovery challenges.
Pre-loss personal electronic inventory. In advance of a flood, hurricane or other disaster, it's possible to take an inventory of important possessions and store this electronic record in a safe place. Recording such information before disaster damage occurs proves to be very useful when making insurance claims.
Building assessment with infrared thermal imaging. An infrared camera can be very useful for identifying building damage and displaced items that are hidden by debris or by covering materials such as wallboard, flooring, shingles and sheathing.
Document restoration. Valuable printed material that has sustained smoke or water damage can sometimes be restored by technicians with specialized training.
Art restoration. United Services can bring in highly skilled art conservators and restoration experts. These specialists will make the most appropriate repairs to paintings, sculptures and other fine art damaged during a disaster. Repairs to damaged furniture pieces are also possible.
Electronics restoration and media recovery. At United Services, we have our own "geek squad" devoted to recovering key information from computers and hard drives. Even when your computer equipment looks beyond repair, we'd like a shot at retrieving key information for you.
Removing odors and dead animals. It's highly unpleasant and unhealthy to leave an animal carcass in the house. We can rid buildings of these casualties. Our cleaning technicians also know how to deal with different odor problems.
Mold remediation. We are licensed mold remediation contractors, so we know how to kill mold, how to remove mold and how to dry out a basement or other environment so that mold has a tough time returning.
Bio-hazard cleanup. There are a number of different bio-hazards that can surface in a building following a disaster. Our crews are trained to recognize different hazards and employ safe, effective removal techniques.
Temporary building closure and shoring. In addition to boarding up a storm-damaged building to close off entry points, we can also make appropriate temporary structural reinforcements to keep the building intact until permanent repairs are undertaken.