Carpet Cleaning Company In , Lake Bluff, Kenilworth, Evanston, Palatine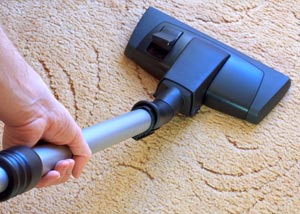 Keeping your carpet clean extends its life significantly and creates a healthier, more beautiful home.
The key to keeping it cost effective is to stay on track with your carpet cleanings. A small investment in cleaning today can make a great impact on the long-term quality and value of your carpeting.
Professional Carpet Restoration in Illinois & Wisconsin
At United Services, we provide cleaning and restoration services for carpeting of all types. We take pride in our healthy, effective solutions and fast results.
Keeping Your Carpet Clean & Beautiful
Cleaning and maintaining your carpet is the best way to ensure its long life and visual appeal. The best maintenance is a combination of both in-home and professional efforts.
There are four ways to maintain a clean carpet:
Preventative Measures: Reducing the volume of soil that is tracked into your home.
Daily Maintenance: Removing dry soil and dirt spots as they appear on the carpet.
Light Cleaning: Removing surface-level soil.
Deep Cleaning: Getting deep into the carpet's pile to remove penetrating soil layers.
Of these, a homeowner is the best option for preventative measures, daily maintenance, and light cleaning. Cleaning spots as soon as possible and minimizing soil buildup in the soil is vital to keeping your carpet as beautiful as possible.
It's also important to bring in professionals for deep cleaning on a schedule -- and not just when there is visible dirt. This is vital to the long life of your carpeting.
Our service area includes Illinois & Wisconsin, including Waukegan, Kenosha, Arlington Heights, Kenilworth, Lake Bluff, Palatine, Evanston, Janesville, Des Plaines, Skokie, Mount Prospect, Winnetka, Golf, Buffalo Grove, Crystal Lake, Wheeling, Glenview, and nearby. Contact us today for details about pricing, and to schedule a consultation!
Carpet Maintenance And Cleaning Tips
Some homeowners avoid installing carpet entirely by instead opting for tile, linoleum, or hardwood floors. This is unfortunate, as there's many advantages to having a carpet installed.
Carpeting provides a soft, attractive, nonslip surface. It insulates noise, and feels warm and comfortable underfoot. It also can act as an air filter, pulling allergens and debris out of the air. While these allergens can accumulate and be reintroduced into the air, a well-maintained carpet has been proven to be a benefit for the health and quality of life of those who have one.
There's a lot you can do on your own for your carpet's upkeep. When you're cleaning your home, consider these three pointers: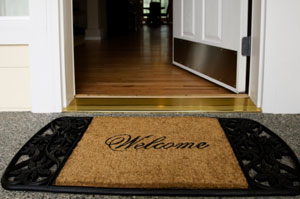 Keep Soil From Reaching Your Carpet In The First Place
As much as 85% of the soil entering your home is brought in from outside on the soles of shoes. Keep this soil out, and you can eliminate literally pounds of dirt from getting in your carpet!
Simply adding a walk-off mat by an entryway may intercept much of this soil, saving you a lot of labor. Placing a welcome mat outside your home and keeping the area well-swept will also help to minimize tracked-in dirt.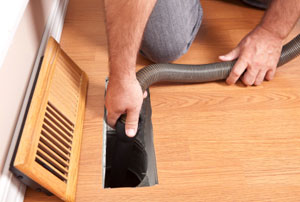 Maintain Your HVAC System & Air Filtration System
Few homeowners realize that a properly-maintained HVAC system is also key to a beautiful carpet (among many other things). A carpet can act like a filter for the air in your home -- trapping dust, debris, and allergens that move through the air.
A smoothly running HVAC system will remove airborne particles before they are recirculated, preventing them from settling on your carpeting. This will also help to reduce allergens and pollutants present in your home, creating a healthier home environment.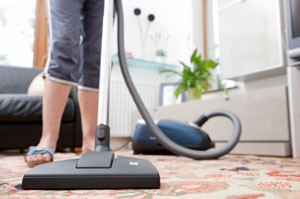 Prevent Soil Buildup Deep In Your Carpet
It's important to keep your carpet well-vacuumed -- particularly in a high-traffic area. Using a HEPA-Certified vacuum cleaner (and using it often) is a great step in this direction, as this will eliminate dust and debris that might be sent into the air as it passes through the vacuum cleaner. A high-filtration model is also ideal; remove and replace the bag when it's two-thirds full to keep it running smoothly.
Wet-cleaning methods that are common with deep-cleaning can turn dirt into mud -- which can cling to carpet fibers and is notoriously difficult to remove. Keeping this dirt to a minimum day-to-day is a key way to prepare for these appointments.
If you're deep-cleaning your carpet on your own, this dirt can become a serious issue. Most water-based carpet cleaning machines are not prepared to remove mud. As the carpet is drying, water will rise to the surface, bringing mud with it as it does.
As the water enters the air in your home, the mud will be left behind, collecting at the top of carpet fibers. This can leave your carpet looking dirtier than when you started!
Getting Rid Of Spots & Stains On Your Carpet
When you install a carpet in your home, you've committed to a long, unbroken sheet of material on your floor. One spot or discoloration, and that beauty is interrupted.
If a stain happens, it's important to respond as soon as possible -- if not immediately, then by the end of the day.
When cleaning spots out of carpet, we recommend these six steps:
Blot The Spot: If the spot is still damp, blot it to extract as much of the substance as is possible.
Draw It Out: If the spot has dried, use a spotting spatula to loosen the material. Then vacuum it off thoroughly.
Treat The Area: Many cleaners react poorly with carpet. Be sure to test your spot treatment out in an inconspicuous area before using it on a spot. Work from the outside of the stain to the inside for maximum effect and to avoid spreading the stain's damage.
Blot The Treated Area: Soak up any moisture. Repeat until no more stain is transferred to the towel or rag. then apply water to neutralize the solution and blot again.
Use Stain Eraser On Stubborn Spots: If the previous steps were ineffective, apply a stain-erase product liberally, working it into the carpet. Vacuum after drying.
Protect The Carpet: Wet carpet and cleaning chemicals are a dirt magnet! Once the cleaning is done, be sure to protect the area from traffic for 24-48 hours.
If the stain occurs in a high-traffic area and is dry, you should also vacuum the area before applying any water or wet products. The moisture from them can turn preexisting soil in the carpet into mud, worsening the problem significantly.
We Can Restore Beauty And Cleanliness To Your Home's Carpeting!
Don't wait until your carpet looks soiled before cleaning it! In most cases, carpets begin to appear soiled because many layers of dirt have embedded themselves in carpet fibers. This makes cleaning much more difficult, and can compromise how effective it is.
We'd like to help you maintain your investment! Contact us by phone or e-mail today!
At United Services, we proudly serve Illinois & Wisconsin, including Kenosha, Waukegan, Arlington Heights, Lake Bluff, Kenilworth, Evanston, Palatine, Skokie, Janesville, Des Plaines, Mount Prospect, Winnetka, Golf, Buffalo Grove, Crystal Lake, Wheeling, Glenview, and nearby.